Dear Incarnation Parish Family,
It is my great joy to announce that, after 1300 hours of work over the past 17 weeks, the Rector Search Committee and the Vestry have voted unanimously to call the Rev. Dr. Christopher A. Beeley, Ph.D. to be the sixteenth Rector of Church of the Incarnation. Thanks to the immense prayers of the entire church, the Holy Spirit has opened the hearts of the committee and Dr. Beeley to reveal God's choice for our next rector, and we are profoundly grateful.

Dr. Beeley has served since 2018 as the Director of the Anglican Episcopal House of Studies and the Jack and Barbara Bovender Professor of Theology, Anglican Studies and Ministry at Duke Divinity School. He and his wife, Shannon, will move to Dallas later this summer, and his first Sunday at Incarnation will be August 28.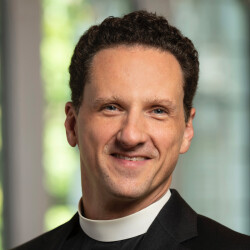 Our Next Rector
The Rev. Dr. Christopher A. Beeley has been called to be the next rector of Church of the Incarnation beginning Sunday, August 28, 2022.
The Rector Elect and his wife are native Texans and have been married for 31 years. They have three young adult children, sons Reed and Corin and daughter Camilla, and Gus, the family dog. Dr. Beeley graduated with a B.A. Hons. in Philosophy from Washington and Lee University, an M.Div. from Yale Divinity School, and a Ph.D. from the University of Notre Dame. He was ordained deacon and priest in the Episcopal Diocese of Texas and has served as a priest in eight churches nationwide. Before joining the Duke faculty, he taught for 16 years at Yale Divinity School. The author of several books, Dr. Beeley regularly consults on leadership and program development and speaks nationally and internationally on Christian theology, spirituality, and church leadership.

Dr. Beeley is an orthodox theologian and church leader, and is well known as an accomplished pastor, preacher, author, and trainer of new ministers. He is also a friend of Incarnation, being acquainted with several of the staff and having spoken at the last RADVO conference. His greatest passion is fostering the abundant spiritual growth of God's Church. He is excited to lead the Church of the Incarnation in the next chapter of our journey in service to the Lord Jesus Christ.

Please join me in welcoming Dr. Beeley and his family to Incarnation and the city of Dallas!


Mark H. LaRoe
Senior Warden
Church of the Incarnation