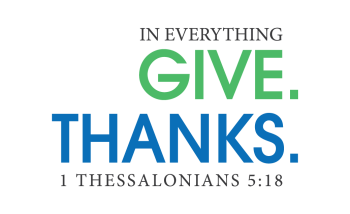 Rejoice always, pray continually, give thanks in all circumstances; for this is God's will for you in Christ Jesus.
1 Thessalonians 5:16-18 (NIV)
Practicing gratitude can invite joy by opening our eyes to what the Lord has given us. God calls us to give thanks at all times and in all places. In this new season of life at Incarnation, let's take time to acknowledge all the Lord has given us and begin to define a spiritual practice of gratitude.

As Christians, our entire lives are to be characterized by gratitude—gratitude for the ways God has provided for us in this life and, above all, gratitude for God's unfathomable generosity in giving his only Son so that we might have life in him. Where would we be without God's unearned grace? Where would we be without the many ways God has fed and guided us through other people?
The good life is a life of gratitude that others can see in our thoughts, words, and deeds. When we are truly grateful for God's gifts, we naturally want to give in return. And when we give out of love for God and our neighbors, we mirror the character of Christ.
What a freeing and joyful experience it is to live out of gratitude for what God has given us.
How will your generosity reflect your gratitude?
---