Grocery Drop-Off
Mission & Outreach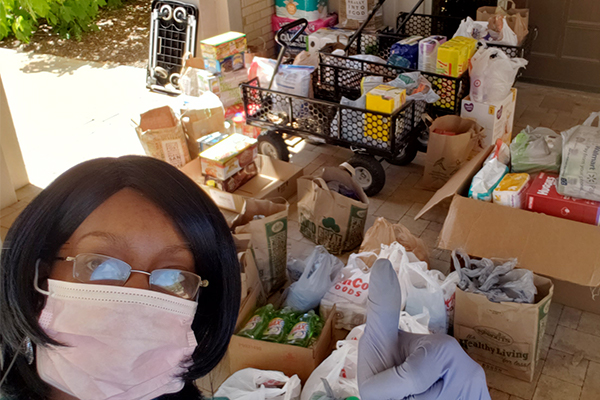 Over the past five weeks, 70 people have donated more than 7,500 items to support, care for, and love our neighbors for the sake of Jesus Christ. In the coming weeks, consider picking up extra cleaning supplies each time you visit the grocery store to continue supporting our neighbors to keep their families safe from the coronavirus. Recipients of your donations include refugees from Gateway of Grace and our neighbors in the Roseland community. Help us to continue making an impact in one or both ways detailed below:
SHOP ONLINE & SHIP DIRECT ANYTIME
Purchase items from our Amazon Wish List to benefit Gateway of Grace directly. View the list and check back frequently for changes as items become available.
SHOP & DROP OFF ON WEDNESDAYS (10 am – 2 pm)
The second way to help, if you are able, healthy, and not in a high-risk group, is to go to the store and drop off your donations on Wednesdays from 10 am– 2 pm at either the Main Campus (Welcome Center) or North Campus (Parish Hall entrance).
We ask that you drop off your donations of:
Canned vegetables, canned protein ( i.e. tuna, chicken, etc. )
Beans, lentils, chickpeas, rice
Flour, oil
Non-perishable food items: canned soup, canned fruit, Caprisun® fruit juice, Easy Mac (individual size)
Dried pasta, pasta sauce, tomato sauce
Diapers (size 1,2, & 7)
Cleaning supplies: hand soap, dish soap, laundry detergent, hand sanitizer, cleaning wipes, bleach
Brita® pitchers with filters
Tissue/Toilet paper, paper towels
Feminine hygiene products
Participants must adhere to these rules for drop off:
No one should make a special trip to the store for this purpose. Only pick up items if you are already making a regular personal trip. Please bring only the items on the above list. When you arrive at the drop off location, the driver will need to get out, open the trunk or tailgate, and return to the inside of the car. Then, and only then will a staff member or volunteer get goods out of the car and shut the trunk or tailgate for you to drive off.
Drop-Off Locations
QUESTIONS?
If you have any questions, please email Mission & Outreach.
---
Previous Page