Good Books & Good Talk
Theologian-in-residence Victor Lee Austin leads these seminars as discussions of the book of the month. They are open to anyone interested. Participants are expected to have read the book in advance (but if not, merely to listen). Each seminar begins at 5 p.m. and lasts 90 minutes.
Wise Blood by Flannery O'Connor
In her first novel, Flannery O'Connor gives us strangely contorted characters. Hazel Motes preaches the Church of Christ without Christ. Enoch, his wannabe disciple, is captivated by a mummy that he takes to be his savior. Motes ends up with a secret that his greedy landlady cannot grasp. O'Connor, a star of the southern catholic writers of the mid-20th century, here treats her readers mercilessly for the sake of truth, and along the way tells a tale that grips.
---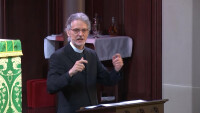 The Rev. Canon Rev. Canon Victor Lee Austin, Ph.D. is Theologian-in-Residence for Church of the Incarnation and the Episcopal Diocese of Dallas.
Previous Page